Marriage License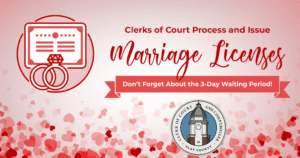 Each marriage license is issued by a county judge or clerk of the circuit court under his/her seal. The county judge or clerk of the circuit court shall issue such license, upon application for the license, if there appears to be no impediments to the marriage. Marriage licenses are only valid for ceremonies conducted in the state of Florida.
Appointments Required
For marriage license appointments at our Green Cove Springs location (main courthouse), please call (904) 269-6302 (Recording Department). For marriage license appointments at our Orange Park Branch location, please call (904) 541-2784.
Written Application Required
To seek an application, the parties to the marriage must first file an affidavit in writing, sign such affidavit, and subscribe before an authorized person to administer an oath, reciting the true and correct ages of such parties; unless both parties are over the age of 18, except as provided Florida Statute 741.04. While a link to an online application form is provided at the bottom of this page for your convenience, the marriage license application process is not complete until both parties appear in person at the Clerk's Office, as noted in the online application form disclaimer below.
Issuance in Blank Prohibited
As per Florida Statute 741.03, it is unlawful to send out any marriage license signed in blank to be issued upon application to persons not in the office of the county judge or clerk of the circuit court.
License Must be Certified and Filed Within 10 Days
Upon solemnizing any marriage, the authorized person shall, within 10 days, make a certificate thereof on the license, and transmit the same to the office of the county judge or clerk of the circuit court from which it issued. Florida Statute 741.08
Marriage License Processing Deadline
Due to the amount of time it takes clerks to process an application for a marriage license, paperwork is required to be filed by 4:00 pm in order for your application to be completed by 4:30 pm.
General Considerations – Governed by Florida Statute, Chapter 741
License is valid for 60 days after issuance.
3-day waiting period required for Florida residents, unless premarital class is completed prior to obtaining license.
3-day waiting period begins the day after the license is issued. For example, if the license is issued on Monday, day 1 of the count is Tuesday, day 2 is Wednesday, day 3 is Thursday, Friday is the first day the couple can be married.
Marriage License Application Fee = $86

Less if premarital course completed.
Additional fees may apply in some circumstances (i.e, Affirmation form for Common Children Born in Florida)

Replace Lost License = $30
Valid identification required for both parties.
If 18 years or age or older:

Requires valid government-issued identification with signature.
If married before, must provide exact date of when last marriage ended.

If 17 years of age:

Requires valid government-issued identification with signature.
Requires certified copy of state-issued birth certificate.
Requires parental consent from both parents along with a copy of each parent's identification.  If one parent has sole custody, a certified copy of the court order granting sole custody must be provided.

Under 18 years of age and pregnant:

Must see the county judge with written proof of pregnancy from a physician.
Premarital counseling class completion – while not required, completion of this class by both parties (Florida residents only) waives the 3-day waiting period and reduces the Marriage License Application Fee to $61; class must be completed prior to making application for the marriage license.
Class instructor must be registered with Clay County; Provider List is provided below; couple must contact provider to ascertain next available class and if any fees are associated with the class.
Premarital Preparation Course Provider Registration Form is provided below.
Premarital Statement Form is required to be completed by all couples – do not sign until you are in front of the Deputy Clerk at one of our offices.
Out-of-state residents require a valid government-issued identification with signature. The 3-day waiting period is waived, thus you can be married the same day. However, if either party is a Florida resident, the 3-day waiting period will apply unless a waiver is received by a judge.
Required Documents, Forms & Helpful Resources
Attention:  If on the Premarital Statement Form above you answer question #3 in the affirmative ("we are the parents of a minor child born in the state of Florida") you must then also complete the Affirmation of Common Children Born in Florida Form found below. If there are more than three children (the space allotted), use an additional form to list the additional children and attach. Deputy Clerk's must sign this form and collect a $3.50 fee in addition to the $86.  Again, this fee is collected only if they (together) are the parents of a child(ren) born in the State of Florida. So it isn't collected on every marriage license issued.
Online Marriage License Application Form Disclaimer
Disclaimer – Please read carefully:
To finalize the issuance of your marriage license – even after successful completion of the form online – both parties must come together into the office of the Clerk of the Court. Valid identification must be presented then for verification. For Florida residents, the 3-day waiting period does not begin until you have appeared in our office to pay the appropriate fees and sign the actual license. After full completion of the form online, please write down the 7-digit number provided after you click "submit" and bring that number with you when you come in-person, together to finalize the license at the Clerk's Office.
If you select "yes" above, then click "continue", you'll be able to access and complete the online marriage license application form.
If you selected "yes" and are instead returned to this same page, you must set your browser security to allow "cookies" and then retry.
PASSPORTS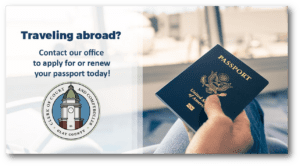 The federal government's Passport Services Office often encounter mail delays that impact the timely processing of some passport applications.  Their processing begins the day they receive the application, not the date it is mailed from your local Clerk's Office or Post Office.  With this in mind, the estimated service times currently are as follows:
Routine service can take up to 18 weeks (12 weeks of processing and 6 weeks in transit/mail)
Expedited service (additional $60) can take up to 12 weeks (6 weeks of processing and 6 weeks in transit/mail)
The United States Department of State is the agency with whom we partner to process passport applications.  The expected time frame for this process to be completed and passports returned changes often based on demand, complexity of application, personnel availability and national emergencies.   For the latest time frame estimates, always refer to travel.state.gov.
Citizens planning trips should not delay beginning the passport application process. Your local clerks are here to help, but cannot control the time frame for return of your passports once submitted to the federal government.

Please Note:  Appointments are required for passport application processing at both office locations (Green Cove Springs and Orange Park). Please call ahead to arrange a date/time with our staff.
A valid Passport Book is required of U.S. citizens departing by air from the United States for any destination outside of North, South or Central America and for entering the United States from outside the United States. A valid Passport Card may only be used for land and sea travel between the United States and Canada, Mexico, Bermuda and the Caribbean. For more information, please visit travel.state.gov.
The Clerk of Court and Comptroller's Office is the local government agency that may accept applications for passports. We provide this service at our main office at the Clay County Courthouse in Green Cove Springs and at our Orange Park Branch. Completed applications are then sent to one of the federal passport services offices designated by the Secretary of State. Each application is reviewed, is either issued or denied and returned directly to the applicant by mail.
Passport Application Process
Please review these helpful documents that outline our passport application process, required items (checklist) and fees.
Processing Deadlines
In the Green Cove Springs Office (main courthouse), all passport applications must be filed by 3:00 pm in order for the application to be mailed the same day. If not, it will be mailed the following business day. If filing your application at the Orange Park Branch, all applications must be filed by 11 am for same-day mailing. Due to the length of time to process the passport application and accompanying paperwork, each office has a 4:00 pm cut-off time to accept and file an application.
Forms
The appropriate application and renewal forms may be obtained at the Clay County Courthouse in Green Cove Springs, Clerk of Court Orange Park Branch or at most travel agencies. The forms must be signed in the presence of a Deputy Clerk at the time of filing. These forms are also available on the U.S. Department of State's website, travel.state.gov.
The U.S. Department of State requires all customers applying for a passport to submit a clear copy of their citizenship evidence in addition to their original or certified copy of U.S. citizenship. If there is writing on both sides of the citizenship evidence, then copies must be made of the front and back of the document. A photocopy is required of primary U.S. citizenship evidence such as a certified birth certificate, naturalization certificate, consular report of birth abroad, and certificate of citizenship. Customers who submit an expired U.S. passport book or passport card as citizenship evidence do not need to submit a photocopy.
Citizenship
If there is no official record of your birth, contact the Bureau of Vital Statistics or the Health Department in your birth state. They will issue a letter which will allow other items to be accepted for proof of birth.  If you are a naturalized citizen, the original naturalization certificate must accompany the application for a passport. It will be returned by the passport agency. If you are not a U.S. Citizen but need a passport, you must contact the nearest consulate of your country.
Visa
A Visa is permission granted by a country to an alien to enter that country and remain for a specific period of time. It is the responsibility of the traveler to obtain the necessary Visas, if any, before proceeding abroad. Visas are obtained from the embassy or consulate of the countries to which the applicant wishes to travel. We can assist with information as to what countries require Visas.
Replacement
If your passport has been lost, stolen or mutilated, you must complete a new application with new pictures, birth certificate and affidavit of lost or stolen passport. These forms are available at our office. The cost will be the same as applying for a new passport.
Denial of Application
If you are behind in your child support payments in excess of $2,500 you are ineligible to receive a U.S. passport. If this applies to you, Passport Services strongly recommends that you contact the appropriate state's child support enforcement agency to make payment arrangements before applying for a passport.
Passports and Confidentiality
Information obtained from or in connection with a passport application is privileged under the Privacy Act of 1974 and under Title 22, Code of Federal Regulations, Section 51.33, and must not be divulged to any person or organization inquiring about such records. Requests for information concerning an applicant's personal background, address or travel plans should be referred to Passport Services in Washington, D.C..
Statistical data concerning passport applications handled by the Clerk's Office, not including any information about specific applications, may be released, i.e., how many passport applications have been issued within a certain time frame.