During the recent summer conference of the Florida Court Clerks & Comptrollers (FCCC), conducted in Orlando, the Clay County Clerk of Court and Comptroller's Office was recognized and received a Best Practices Excellence Program award.
[caption id="attachment_2501" align="alignleft" width="493"]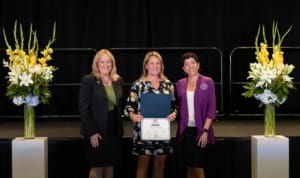 FCCC leadership presents the Best Practices Excellence Program certificate to Clay County Clerk of Court and Comptroller Tara S. Green[/caption] The Best Practices Excellence Program was established last year as an opportunity for Clerks to receive
Recognition of Excellence
certificates for completing assessments that evaluate certain standards.  Among our state's 68 Clerks and Comptrollers, a total of 55 offices participated in the program this year.  Of those, 32 Clerks and Comptrollers received
Recognition of Excellence
certificates in every category that applied to their designated office. In total, participating offices collectively completed 551 assessments to achieve their best practice certificates. "In the second year of our FCCC Best Practices Excellence Program, we aimed to expand the program with categories that captured additional local processes that were customer-related and applicable across offices of varying sizes," said 2021-2022 FCCC President and Manatee County Clerk of Court and Comptroller Angelina "Angel" Colonneso, Esq. "We continue to be inspired by the participation in this program by Clerks and Comptrollers committed to improving efficiency and collaboration with our justice partners and providing better services to constituents."
The 2021-2022 Best Practices Excellence Program evaluated and recognized Clerks and Comptrollers, including Clay County's Tara S. Green's office, in the following areas:
Evidence Storage and Destruction
Eviction Processes
Public Records Requests
Requests to Redact Exempt Personal Information
Exploitation of Vulnerable Adult Injunction
Bail Bonds
Compliance Services
Confidential Judicial Records
Marriage License
Recording Fundamentals
Service of Documents by Clerks for Pro Se Litigants
 Congratulations to all our personnel whose hard work and adherence to these important best practices was recognized as part of this statewide program.