The Clay County Historical Archives in Green Cove Springs is a fun and educational place to visit and a wonderful resource for anyone interested in the history of our county and state. You'll find us on the card/pass mentioned above!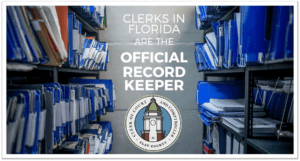 While nearly all of the county's modern official records are available online, our historic hard-copy records are stored in the Clay County Historical Archives at the renovated Old County Jail facility off State Road 16 at 21 Gratio Place.
The Archives Center is a hub of information for genealogical enthusiasts and researchers, too.  Call Archives Specialist Vishi Garig at (904) 371-0027 to learn more. Check out our Historical Archives video and find even more photographs and historic details by visiting our Clay County Historical Archives website.  Through Archives, thousands of historical documents are available. Most of these documents and photographs can be made available online via email attachment (if file size allows) and through other digital/electronic means.
Be sure to make note of a wonderful new program – the Celebrate Clay County History Bingo Card/Pass! The Clerk's Office/Archives, Clay County School District and Clay County Tourism Division collaborated on this project that was unveiled in the Clay Today and digitally at this link: Clay County History Bingo Pass.  Expanded information about all the historic sites and fun activities can be found as well on the Clay Today's website, too.
Hours of Operation
Monday – Friday, Open 8:00am to 5:00pm
Saturday & Sunday, Closed Except for Special Events
Holiday and Special Closure Dates as Posted on the Archives Entrance
The mission of the Clay County Archives is to effectively identify, organize and preserve records and artifacts of enduring value in various formats related to Clay County. Under the supervision of Archives Specialist Vishi Garig, the Archives ensures the availability and accessibility of these records and artifacts entrusted to them for the use of both present and future generations.
The Archives is committed to promoting programs and providing resources that increase public awareness of and appreciation for Clay County, Florida. The Archives operation is closely connected to both our Communications & Community Outreach Department and also with our Recording Department functions.  Our staff is available as guest speakers in the community and groups are also welcome to tour the Old Jail, Archives, 1890 Courthouse and Clay County Courthouse, too.  Simply contact Archives Specialist Garig at (904)371-0027 OR clayarchives@clayclerk.com for tours of the historic buildings or contact Public Information Officer Mary Justino at (904)269-6337 OR justinom@clayclerk.com to arrange tours of the main Clay County Courthouse.