Each quarter of the year, all personnel are encouraged to nominate their fellow employees to be recognized as an All-Star.
This award program began in 2019, resulting in the submission of many amazing stories about our Clerk of Court and Comptroller's Office employees. The chosen recipients exemplify our organization's Mission, Vision & Core Values. While there can only be one winner each quarter, every nomination period reveals numerous eligible nominees. We are proud of them all and look forward to selecting and recognizing many more future All-Star Award winners.
Please join us in congratulating our current All-Star Award recipient and other recently-recognized all-star employees below.
Lillian Robles-Rodriguez (photo coming soon)
This quarter's All-Star employee exemplifies our office's core values in many ways but is especially helpful in one increasingly important way – crossing the language barrier.  While there is a phone line system for translation, this clerk allows our operation to present a more personal approach when responding to requests from citizens and other departments. She interacts with a professional, empathetic, and courteous manner, not just with the public but also with the employees who ask her to assist.  Even though her official role is not "public facing", this does not stop her from assisting others, which builds trust.  In addition to her regular duties in our Comptroller Department, she comes in with a great attitude which makes her whole department a better place to work.  Multiple colleagues described her as an employee who goes above and beyond, willing to stop whatever she is doing to help, with a warm smile and servant's heart. By efficiently bridging the language barrier she helps so many of our Spanish-speaking constituents. When not translating, this clerk reliably and quickly pulls information needed for the auditors – they even commented recently about her efficiency. For example, during the most recent audit, she pulled more than 1,500 individual files and made sure they were labeled and correct. She often researches new items to know ensure recording accuracy. The icing on the cake is how she also jumps in to plan her department's birthday celebrations and office potlucks, which increases moral and comradery.  Congratulations, Clerk Lillian Robles-Rodriguez of our Comptroller Department, on your selection as this quarter's All-Star Award.
Tiffany Mays (photo coming soon)
Recording Department Clerk Tiffany Mays is recognized as a very helpful employee who serves others in a professional, empathetic, and courteous manner.  Described by her colleagues as "a ray of sunshine….always calm no matter the circumstance", she goes above and beyond when assisting customers and coworkers. Tiffany is very observant, jumping in to help without prompting.  For example, she reviews the passport and marriage license appointment schedule, notes manpower issues, and adjusts her break time to meet the needs of the office and of citizens.   She is trustworthy and takes her duties seriously, often researching customer issues in detail to find the best solution for their problem. Tiffany shares an encouraging word with law enforcement officers and other partner agency employees she encounters regularly in Recording. For these reasons and more, we name Clerk Tiffany Mays as this quarter's All-Star employee.  Congratulations!
Dalphine "DD" Ware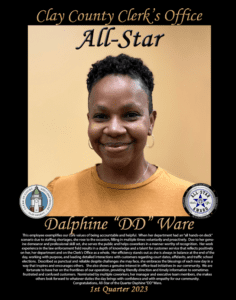 This employee exemplifies our core values of being accountable and helpful.  When her department had an "all hands-on deck" scenario due to staffing shortages, she rose to the occasion, filling in multiple times voluntarily and proactively.  Due to her genuine demeanor and professional skill set, she serves the public and helps coworkers in a manner worthy of recognition.  Her work experience in the law enforcement field results in a depth of knowledge and a talent for customer service that reflects positively on her, her department and on the Clerk's Office as a whole.  Her efficiency stands out as she is always in balance at the end of the day, working with purpose, and leading detailed interactions with customers regarding court dates, affidavits, and traffic school elections.  Described as punctual and reliable despite challenges she may face, she embraces the blessings of each new day in a way that inspires and encourages others.   She also shows a genuine interest in office-lead initiatives in our community.  We are fortunate to have her on the frontlines of our operation, providing friendly direction and timely information to sometimes frustrated and confused customers.  Nominated by multiple coworkers, her manager and executive team members, she makes others look forward to whatever duties the day brings with confidence and with empathy for our community.  Congratulations, All-Star of the Quarter Daphine "DD" Ware.
Cheryl Senter (photo coming soon)
A department's success can hinge on the tenacity and dedication of a key employee at key times. When that happens, true All-Stars shine bright. When our County Finance Department went through a core accounting system conversion (to Workday), Accounts Payable was unable to process invoices and payments for a month. As the team navigated this new accounting system, adjusted to new lingo, and addressed the backlog, this All-Star kept a positive attitude, quickly learning the new system. Steadfast and with future quality in mind, she answered inquiries, talked to suppliers, kept normal duties up to date and more. With her warm, helpful tone her manager watched her shine as she efficiently guided colleagues through complicated changes. She also defined our core value of being accountable during this difficult time – helping handle 6,000 invoices representing more than $9.5million and over 3,000 checks mailed. This All-Star exhibited teamwork by providing guidance and sharing her know-how. Cheryl Senters, congratulations.
Victoria Marquart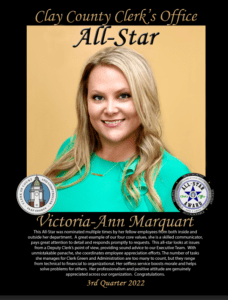 Congrats to this All-Star, Victoria Marquart, as she was nominated multiple times by her fellow employees from both inside and outside her department.  A great example of our four core values, she is a skilled communicator, pays great attention to detail and responds promptly to requests.  She also looks at issues from a Deputy Clerk's point of view, providing sound advice to our Executive Team.  With unmistakable panache, she coordinates employee appreciation efforts. The number of tasks she manages for Clerk Green and Administration are too many to count, but they range from technical to financial to organizational. Her selfless service boosts morale and helps solve problems for others.  Her professionalism and positive attitude are genuinely appreciated across our organization.
Amber Leininger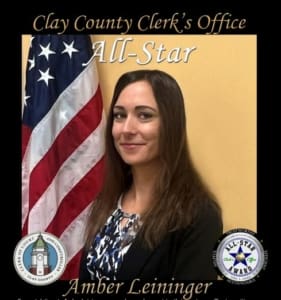 Congratulations to Amber Leininger, an employee who consistently impacts our office in positive ways.  Colleagues describe her as efficient and trustworthy.  The very definition of an "accountable custodian of all county funds and financial reports", Amber also helped resolve recent Finance Department personnel shortages.  She not only handled her own assigned tasks but also finished several additional year-end duties such as payroll and HSA funds distribution.  She was a tremendous help during the Civil Department's recent cashiering transition.  Patient and helpful, she was appreciated by all involved including Real Auction and Benchmark staff. Her dedication is recognized at the executive level due to her commitment in the office and from home when issues arise. Her calm demeanor and intelligence make her an asset to her department and to our entire operation. Congratulations, Senior Staff Accountant Amber Leininger, this quarter's All-Star employee. 
Denise Haselwood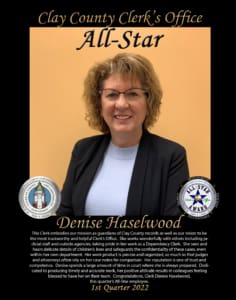 This Clerk embodies our mission as guardians of Clay County records as well as our vision to be the most trustworthy and helpful Clerk's Office.  She works wonderfully with others including judicial staff and outside agencies, taking pride in her work as a Dependency Clerk.  She sees and hears delicate details of children's lives and safeguards the confidentiality of these cases, even within her own department.  Her work product is precise and organized, so much so that judges and attorneys often rely on her case notes for comparison.  Her reputation is one of trust and competence.
Denise spends a large amount of time in court where she is always prepared.  Dedicated to producing timely and accurate work, her positive attitude results in colleagues feeling blessed to have her on their team.
Congratulations, Clerk Denise Haselwood, this quarter's All-Star employee.
Holly Casterline
When a department suffers a devastating blow due to illness, personnel who rise to the occasion to keep services open and available to the public immediately prove their value and grit.  While many employees helped cover duties in the Clerk's Office Criminal Department when they found themselves half-staffed due to COVID 19, this quarter's All-Star Employee Holly Casterline went above and beyond.  Not only did she cover her regular court duties for Judge Lester, but she also performed the duties of court clerk for Judge Sharrit and Judge Collins. For days, she came in early and stayed late to keep her department running, proactively carrying the department on her shoulders during this staffing crisis. Beyond recent circumstances, she is continuously efficient in her tasks while also assisting her coworkers and the public. Her decades-long dedication to her job and to the Clerk's Office is something others strive to emulate. Casterline is described as reliable, accurate, calm, cool, and collected.  Her leadership skills and genuine helpfulness shone through when it was needed most. Congratulations on being selected this quarter's All-Star, Supervisor Holly Casterline.
Law Berdecia-Ledesma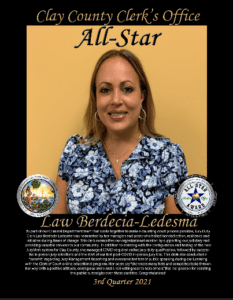 As part of our Criminal Department team that works together to make a daunting court process possible, Jury Duty Clerk Law Berdecia-Ledesma was nominated by her managers and peers who hailed her dedication, resilience and initiative during times of change. This clerk exemplifies our organizational mission by supporting our judiciary and providing valuable services to our community.  In addition to assisting with the configuration and testing of the new JuryMark system for Clay County, she managed COVID-required online jury duty qualification, followed by successful in-person jury selections and the start of our first post-COVID in-person jury trial. This clerk also conducted a "summit" regarding Jury Management Reporting and overcame her fear of public speaking during our Learning with the Clerk of Court online educational program. Her peers say "she wears many hats and completes tasks thrown her way with a positive attitude, contagious smile and a real willingness to help others." But, her passion for assisting the public outweighs even these qualities. Congratulations!