[caption id="attachment_3032" align="alignleft" width="225"]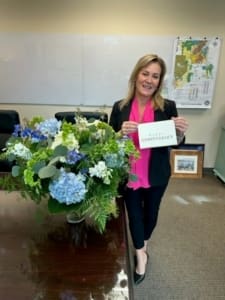 Clay County Clerk of Court and Comptroller Tara S. Green enjoys a surprise delivery from her staff.[/caption]
Happy 10th Anniversary, Clerk of Court and Comptroller Green!
On this, the 10th anniversary of Green's first day as the leader of this office, we recognize her service and accomplishments. To name just a few, Green is  the first female Clerk of Court elected in Clay County history, is a Florida Clerk of the Year award winner and a Past President of the Florida Court Clerk & Comptroller Association.
Green's vision for our office - for us to be the most trustworthy, efficient, accountable and helpful Clerk's Office in Florida -  is made more clear every year of her public service.
On behalf of her whole Clerk/Comptroller team, a heartfelt
congratulations
on ten great years!