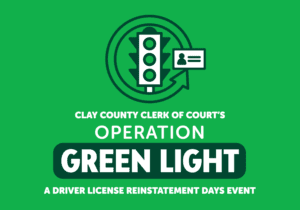 TALLAHASSEE, Fla. – Today, Florida Court Clerks & Comptrollers (FCCC) announced plans for local Clerk of Court offices to hold coordinated Operation Green Light events within a two-week period, from Saturday, March 11 – Saturday, March 25, 2023. Participating offices will hold events one or more days during this timeframe.
*The Clay County Clerk of Court and Comptroller's Office will conduct its local Operation Green Light event on Saturday, March 11, 2023, from 8am-Noon at the Orange Park Branch.  In addition, Operation Green Light assistance will continue into the following work week (Monday-Friday) during normal business hours at both the Orange Park Branch as well as the main office at the Clay County Courthouse in Green Cove Springs. More details coming soon.*
The annual driver license reinstatement event provides customers with an opportunity to pay overdue court-ordered obligations, while saving on additional fees.
"Operation Green Light is an initiative that helps people with outstanding court-ordered financial obligations have their driving privileges restored," said Carolyn Timmann, 2022-2023 FCCC President and Martin County Clerk of Court and Comptroller. "Florida's Clerks of Court are proud to offer these driver license reinstatement events in their local communities to help individuals clear their records and get back on the road to work, play and enjoy all Florida has to offer."
"This year, Clerks of Court are once again going above and beyond to coordinate Operation Green Light events to help individuals with suspended driver licenses get back on the road," said Matt Reynolds, Putnam County Clerk of Court and Comptroller and FCCC 2023 Operation Green Light Workgroup Chair. "To help make this life-changing initiative as successful as possible, we encourage fellow constitutional officers, agencies, and community leaders to get involved and help spread the word about the upcoming window for this time-sensitive offering. For potential participants, mark your calendars and continue to check the FCCC website for the full schedule of events throughout the state."
Visit https://www.flclerks.com/page/GreenLight to learn more about the 2023 Operation Green Light events. The calendar of events for participating counties will be made available in the next few weeks. Thank you.