The Archives offers a series of Clay County historical lectures that are perfect for the classroom or for organizational meetings.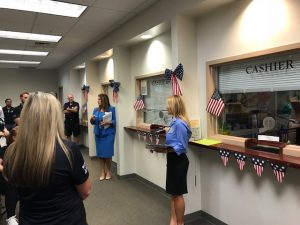 The Archivist, Vishi Garig, regularly lectures at community centers, classrooms, libraries, historical societies and the like. These lectures are free and available to the public. All you need to do is schedule the Archivist to come and speak at your classroom or organization.  Call (904) 371-0027 or email Archives@clayclerk.com for more information and to request a speaking appearance.
If you have a specific interest in a topic, the Archivist may be able to customize a lecture on that topic. Educators – lectures can be tailored to different grade levels. Examples of some lectures topics include the Civil War in Clay County, Dr. Yerkes and the "Monkey Farm", Mary Helen Hoff and the POW/MIA Flag, Clay County Native Americans, Spanish and British land grants, and many more.  Contact our Archives
Specialist for a current list of presentation options/topics.
In addition to the availability of Ms. Garig for public appearances, Clerk of Court and Comptroller Tara S. Green is also available to speak to your group.  Clerk/Comptroller Green often speaks about her role as an elected official and her staff's role in managing everything from judicial system access, to jury duty to safeguarding millions of taxpayer dollars each year.  These presentations can be made in-person when appropriate or remotely using Zoom, Webex, etc.  Let us know how we can help broaden your understanding of the many services we provide. Tours of the main courthouse are also available.
Email our Community Outreach office at justinom@clayclerk.com to request a main courthouse tour or to arrange for Clerk/Comptroller Green to speak to your group.