Our first evidence for sugar production in Clay County is from the 1830's when William Travers operated a sugar plantation mill at Magnolia Springs with his friend Matthew Solano. This was burned by Seminoles in 1840 and was not rebuilt. This fifty-barrel operation wouldn't have been larger than five acres. The rest of the references we know of related to early sugar works are listed below.
Early Sugar Works References
Mill Cove- A bay on the south side of Doctors Lake indicates the probable location of an early saw or sugar mill. Also, the location of a small bombing range during WWII.
Sugarhouse Cove- Across from Mill Cove is Sugarhouse Cove, where cane fields were also planted. Coincidentally, a plantation called "Cane Field" near Sugarhouse Cove probably got its name not from sugar but from its early owner, William Kane (Cain).
Fleming Sugar Mill (at Hibernia)
Long Branch area- There may have been a sugar mill in the Long Branch (Penney Farms) area around 1880. Darling Prescott (a small child) died in a sugar mill accident and was buried in the Long Branch Cemetery. (John Wilson Prescott family history)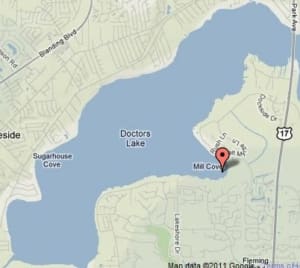 McIntosh Sugar Works (now Orange Park area)
See also the Burlington Sawmill
Apparently, steam powered (Parade of Memories, pg 35)
Map CCA101585 at the Archives also shows sugar works on the Kingsley Plantation.