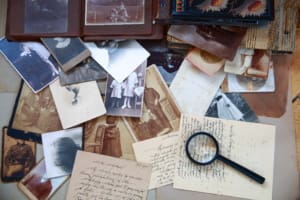 The Archives Center is custodian of various unrelated materials that made their way into our hands. Each is organized appropriately based on content, to the best of our abilities.
A file of copies of letters from the 1930s, between the family in Green Cove Springs, Chicago, and Iowa. Volunteers have transcribed the letters.
Old Courthouse/Old Jail Renovation
A select set of papers is in the Subject Files
Health Department- A Health Department employee kept a scrapbook of Health Department newspaper clippings for several years. The clippings reveal the health concerns of the time.
Garden Club of Orange Park
Pilot Club of Orange Park
The Village Improvement Association (VIA), the first women's club in Florida, kept meticulous minutes and records since it was incorporated by the state legislature in 1889 to promote "neatness and order." But they went well beyond trying to keep cows out of the streets — most notably organizing the county's first library. The Archives retains a set of their minutes, which have been partially indexed.
An impressive part of the VIA's history and legacy in our community is the group's connection to May Mann Jennings. One of Florida's most powerful and influential women, she was a leader of organizations, both civic and philanthropic, and founder of the League of Women Voters of Florida.
Read more here:  Life and Legacy of May Mann Jennings