A good source of early narrative about Florida pioneer individuals and families is "Pioneers of Florida's First Coast," available at the Archives.
Notable Individuals Glossary
Please click through the lettered tabs below to see a list of relevant notable individuals.
A

Alderman, Hiram. One of the first settlers at Lake Geneva. His house is in Bonnie Melrose, pg 214. His 1880 farm is shown in the first known landscape panorama in Clay County (see Ekoniah Scrub, pg 12)
B
Bardin, George N. of Green Cove Springs, a county judge, was born in Duval County, Fla., May 20, 1849, son of William S. and Jane (Tippens) Bardin. His father was one of the pioneers of the State and is celebrated for his extraordinary part in the great Seminole War of 1835-42. He served as a scout for the command of Captain Dade, escaped the massacre that befell his comrades by his absence on a scouting expedition and rendered valuable service throughout the seven years war. When the civil war began, he was too old for enlistment. Still, as the struggle progressed, he realized the straits to which the South was put to get sufficient men and, despite his advanced age, enlisted in the Florida militia, was appointed orderly sergeant, and served three years, being detailed for scouting duty on account of his unusual abilities in that line and splendid reputation acquired in previous wars.
George N. Bardin was too young to join the Confederate army, but imbued with a desire to serve his county and unaware of the regulations of war, with a party of boys, attacked the enemy encamped on Black Creek, killing several of the sentinels, who were negroes, and creating great consternation in the camp. For that act, he was declared a murderer by the United States government, and a cavalry company was sent to capture him, which he narrowly escaped by fleeing to the almost impenetrable swamps. His father decided it would not be healthy for young George to remain with him after this. Accordingly, he was impressed with the regular service, rendering an excellent account of himself up to the cessation of hostilities. After the war, he engaged in the sawmill and lumber business until he attained his majority.
From that period, Mr. Bardin has been prominently identified with the public affairs of Clay County, having long been a capable and trusted official. He served as constable for one year and as a deputy sheriff for four years; for six years, was an efficient justice of the peace, has been honored with the office of Mayor of Green Cove Springs for three terms, and was a member of the board of aldermen one term. For many years he was the circuit court clerk and afterward was a tax assessor. For several years he served Clay County as deputy collector and deputy tax assessor and later was again deputy sheriff. In the latter part of 1895, he was appointed county judge to full an unexpired term; in 1896, he was elected justice of the peace, holding that office until November 1899, when he was again appointed county judge to till an unexpired term.
In the general election of November 1900, Mr. Bardin was elected by popular vote to succeed in that important office, and he entered a new term on January 8, 1901. Mr. Bardin has enjoyed a public career of over thirty years in the county where he now resides, having held nearly every office of importance within the gift of his constituents and invariably discharging all obligations with rare fidelity and unusual ability. He has long been connected with the Masonic order and is the efficient secretary of the local lodge at Green Cove Springs. He was married on April 13, 1871, to Josephine, daughter of John and Mary Gay, and seven children have been born to them, Charles N., Mrs. Ella Branning (of DeSota county), Fannie, Laura, Annie, Sadie, and Mildred. [Memoirs of Florida]
Bemis, H. E.., is an old resident of the town [Green Cove Springs], having been here about twelve years. He has a large stock and has shown great skill in selecting the goods displayed in his cases. Gold and silver watches and prices can be found; silverware, rings, and jewelry are in his stock. [Live Towns and Live Men 1891]
Benedict, Nathan Supt. of the NY Insane Asylum system, who came to Florida for his health, bought Magnolia Springs and opened the first hotel there.
Benedict, Washington A. Pastor at the Orange Park Normal School. Informed the state superintendent of education that blacks and whites were being taught together, resulting in an important race-relations court case.
Benedict, Washington G. Formed the Town of Orange Park in conjunction with his investors in the Florida Winter Home and Development Company. Besides his important works, he also patented a palmetto mattress.
Biddulph, F. B. One can hardly visit Green Cove Springs without meeting Alderman F. B. Biddulph. His handsome drug store is on the most convenient corner. It is always a retreat for visitors, either in search of medicines or toilet articles or by those who want the daily paper or reading matter of some description. Mr. Biddulph came from New Jersey and has always been considered one of the best of men when it comes to working for his town. [Live Towns and Live Men 1891]
Black, Christian, ex-Sheriff, County Commissioner, and at present on the Board of Public Instruction, came from Denmark twenty-one years ago and, although of foreign birth, has always been one of the live men of Clay County. Mr. Black is identified with the Masons and Knights of Pythias and is considered a warm friend and good citizen by those who know him. [Live Towns and Live Men 1891]
Brazee, G. A. The growth of Green Cove Springs has been very rapid, and the number of fine residences to be seen on every hand shows that the town has good contractors and builders. G. A. Brazee has the reputation of being one of the best contractors in the State. The amount of building done by Mr. Brazee in the town is enormous. His services have always been in good demand as he uses only the best materials and employs the most careful workmen. [Live Towns and Live Men 1891]
Budington, Ozias A. of Green Cove Springs, was born in 1849, the son of Ozias Budington and Susan Gary of Maryland. His grandfather Gary came to Florida when the change of flags took place and served the United States government as its first Indian agent in Florida. He served through the Indian wars of 1835 to 18377 and was a merchant in Clay County for a number of years. Ozias A. Budigton received a common school education and engaged in the lumber business at the close of the war when only sixteen years old. He was also occupied in constructing the Southwestern railroad from the tenth milepost to Melrose, a distance of twenty-four miles. In official life, he has had the honor of holding the office of clerk of the circuit court of Clay County for ten years.
Currently, he has a large shingle mill at Green Cove Springs, where he manufactures only cypress shingles, of which he can hardly supply the demand. Mr. Budington is strictly a self-made man and a fine progressive, industrious worker who is the chief factor in building up states. He has accumulated a nice property through his unwavering industry and good judgment. He is recognized as a shrewd businessman and a citizen who enjoys general esteem. On November 4, 1875, he was married to Lula F., daughter of Richard L. Hallowar of Edgefield, S. C. They have two children living, Richard Earle and Belle, the widow of Tracy Paxson. [Memoirs of Florida] We are fortunate to have a first-hand account of a meeting with Buddington in "Ekoniah Scrub" by Louise Seymour Townsend.
Butler, Gould T., of Pine Grove Mill, has proved that enterprise and hard work will bring their own reward. Mr. Butler handles hay, grain, and fertilizer in any quantity the purchaser desires. He also makes a specialty of cleaning rice and grinding feed. His beautiful residence on the hill is nestled amid orange trees, vines, and shrubs. Twenty-four acres have been set aside for fruits of every description. Last year his place yielded about 30,000 quarts of strawberries. Packing and shipping fruit is attended to for outside parties.
C
Campbell, Lucius J. of Middleburg, notable among those interested in the turpentine industry, was born in Colleton County, S. C., September 9, 1852, son of John W. and Lavonia (Paget) Campbell. His father was a gallant Confederate soldier in the civil war, serving through that struggle as a private in Captain Campbell's company of Cox's regiment. Mr. Campbell's first venture in business was in the sawmill industry in South Carolina, in which he was successfully engaged up to ten years ago when he embarked on the turpentine industry and has successfully pursued that line of occupation since.
About 1896, he moved to his present home in Clay County. He purchased several large turpentine tracts in different parts of the county, one lying near Middleburg, another situated on Black Creek, a third an Orange Park, and a fourth at Flemings altogether, comprising one of the most valuable holdings of this character in the St. Johns region. Mr. Campbell is an honored citizen, a man of sterling worth, who has the respect and friendship of the whole community. He was married July 8, 1855, to Amanda E., daughter of Benjamin and Eliza Spell, of Collection, S. C. they have five children: Benjamin, Marvin, Russell, Pleasant, and an infant William Jennings. [Memoirs of Florida]
Carlyle, George, Long-time County Clerk of Clay County. A scrapbook of newspaper clipping over his 35-year career is available at the Archives.
Chalker, A. S. It is presumed that every person in Clay county and thousands all over the State knows A. S. Chalker. Mr. Chalker is an old and honorable resident, having participated in every movement for the benefit of his town for many years. In 1852, Mr. Chalker's father came to Florida from Horry County, S. C. from that time to the present, his faith in the State has always been strong, and his work of that nature has aided in the development of the State at large and his own town.
Mr. Chalker was for four years County Tax Collector and postmaster of Middleburg for seventeen years. In business circles, he has always stood very high, having been one of the leading men of Clay County for years. The Chalker residence is the most picturesque in the town, and beneath its hospitable roof, eight bright, healthy sons and daughters have come to brighten the life and prolong the days of Mr. Chalker and his estimable wife. As a Mason and Knight of Pythias, Mr. Chalker has been very prominent, and here, as elsewhere in his life, has done well at all times when in his power to do so. [Live Towns and Live Men 1891]
Chalker, William R. of Middleburg, was born in that old Florida town on October 4, 1866, son of Albert S. and Martha A. (Bardin) Chalker. He was raised and educated there and, in early manhood, gave his attention to the druggist business. In 1894 he was elected tax assessor of Clay County, a position he ably filled for four years, and in 1900 he was appointed by the governor to fill an unexpired term in the office of tax collector. Meanwhile, he has prospered in business as a druggist, is one of the popular businessmen of his town, and has merited general commendation by his official services. He was married on November 25, 1892, to Agnes V., daughter of John C. and Jane Masters, and they have four children, Gladys, Earnest, Edit, and Edna. [Edna was an avid local historian for many years] Mr. Chalker is prominent in the Masonic order, a past master and district deputy grand master, and has received the degrees of the Scottish rite at St. Augustine. In the Knights of Pythias, he is the past chancellor, commander, and keeper of the records and seals. [Memoirs of Florida]
Copeland, Judge J. T. Another familiar form in Orange Park is J. T. Copeland, ex-County Judge of Clay County. Judge Copeland is a native of Maine, but for a number of years before coming to this State resided in Michigan, where he was Judge of the Supreme Court. He served his country during the late war as a gallant soldier and won fame and honor. Judge Copeland is always warm in his praise of his adopted State and may be depended upon at all times to assist willingly and liberally in whatever tends to build up Orange Park and Clay count. [Live Towns and Live Men 1891]
Crocker, Jo. C. Every town has men who, from their business methods, are known as leaders in their particular trade lines. Such a man as Jo. C. Crocker. His new store is the largest in the county, and his stock is large and always sold at prices that should make every one spend their money at home. Whatever you do, avoid long, tiresome journeys out of town when Crocker will sell you cheaper at home. [Live Towns and Live Men 1891]
D
Davids, Thaddeus (1810 – 1894) of New York. Thaddeus Davids wintered at his villa in Green Cove Springs during the 1870s with his family and servants. He was mayor of Green Cove Springs for a time. Many northern residents found the area's climate conducive to improving their health before the railroad opened up more southerly destinations. He erected a spectacular residence on St. David's Walk– the most beautiful location in town. Perhaps the path was named to honor him? The house faced the river with a grand three-story veranda. Apparently, it had a detached kitchen in the back. So respected was he that he was elected Mayor of Green Cove Springs, even though he was only a winter resident, a highly unusual occurrence. Men of means were his neighbors, including the Borden Family (of condensed milk fame), who built the first park and helped establish the Village Improvement Association (VIA). Also wanting to contribute to the welfare of his community, Davids donated the lot for St. Mary's Episcopal Church. On the 17th of March, [1878, Bishop John Freeman Young] held services in the only house of worship at Green Cove Springs. "The concourse, gathering from the hotels, including a large deputation from Magnolia, so filled and crowded the house that many went away unable to get in." The musical services were rendered by visitors, doubtless attracted by the reputation of the place as a health and winter resort. During the week, the Bishop visited the residents and the guests. He secured a subscription of over a thousand dollars and the deed to "the most desirable site that the region affords." Mr. Thaddeus Davids donated the lot before leaving. Bishop Young contracted for the erection of the nave of the church. "This is a most gratifying result of one week's effort in a place where we have not a single Church-family among the permanent residents." — John Freeman Young, Second Bishop of Florida.
F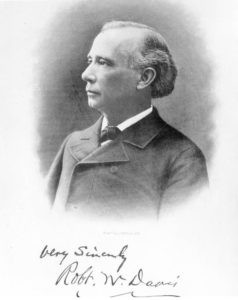 Faulk, William H. of Orange Park, was born in Robeson County, N. C., March 3, 1867, son of Asbury and Sarah *Bethay) Faulk. He was raised and educated in his native state, receiving a common school training, and in 1886 removed to Tatnall County, Ga., engaging in the turpentine business. Becoming an expert in this important industry, he was called in 1900 to the position of general manager of the large turpentine farms of Dr. R. Edwards, in the vicinity of Prange Park, among the most extensive and valuable in the state. Mr. Faulk has become thoroughly a citizen of Florida and is a valuable addition to the ranks of those engaged in developing one of her most valuable resources. He is recognized as one of the best-informed men in the naval stores industry. Mr. Faulk's family consists of his wife, Lena, daughter of John and Nancy (Tillman) Hughey of Tatnall County, Ga., and five children: William M., John H., Frank F., Henry F., and Edna M. [Memoirs of Florida]
Finegan, Joseph
Known as the CSA general in command of Florida. Finegan married Rebecca (Smith) Travers, the widow of William Travers. They lived for a time at Constancia (Magnolia Springs), and a letter survives written by Finegan from Constancia in 1847. They sold out to Joseph Summerlin (Summeral) before the Civil War. The Summerlins provided Finegan's army with cattle during the war. After the war, Finegan's property was used by the Freedmen's Bureau as an "asylum" (orphanage, hospital, and school) for black children.
Fleming, Francis of Jacksonville [long bio in Memoirs of Florida]
Fleming, Frederic A. of Hibernia, a younger son of Col. Lewis Fleming, was born May 1, 1845. In his boyhood, he volunteered as a soldier of the Confederacy. He was enrolled as a private in Company B, Second Florida Cavalry, in 1863, after being previously declined due to his tender age. He gallantly served with this command in defense of the State until the close of the war. Since then, he has been farming on the Fleming family's old homestead and has also conducted a hotel. For a number of years, he held the office of postmaster at Hibernia and served with distinction as State senator for the Twenty-ninth district of Florida. Senator Fleming was married in 1886 to Margaret Baldwin of Bloomfield, N. J., and has four children, Frederic A., Jr., Margaret, Mary Augusta, and Dorothy Baldwin. [Memoirs of Florida]
Fleming, Margaret Seaton
See a book in the Archives: "Margaret's Story — Story of Margaret Fleming, by Eugenia Price.
Fougere, Marquis de
He built a sawmill at Black Creek, doubt incorrectly shown on an 1829 (Board of Internal Improvement) map as Fougere "Fort." As far as is known, there was no Fort until the Second Seminole War. One loose end to tie up is that Martha Chalker talks about a "second fort" in a 1980 oral interview.
Frisbee, George, Jr., was born in Middleburg twenty-three years ago and, although a young man, has established a reputation that must prove of value through his remaining years. He is currently employed by T. J. Dillaberry & Co., a position he is well-calculated to fill. Mr. Frisbee is a Mason and Knight of Pythias, and a leader in social affairs. [Live Towns and Live Men 1891]
G
Greer, Judge J. F. Another familiar figure in Green Cove Springs is Judge J. F. Greer, born in Twiggs County, Georgia, sixty-two years ago. Judge Greer has been in Florida for ten years and, during that time, has done much towards the development and welfare of his adopted State, always foremost in every progressive movement. Besides serving as County Judge, he has been a County Commissioner and Justice of the Peace. For thirty years, he has been a prominent businessman in Macon, Ga., where he had many friends. As a gallant soldier, trusted official, and staunch businessman, none know Judge Gree but to respect him. [Live Towns and Live Men 1891]
Griffis, Manning W., of Green Cove Springs, clerk of the circuit court of Clay County, was born in Baker County, Fla., February 12, 1861, son of Manning G. and Jane (Smith) Griffis, both natives of Georgia. He received his preparatory education in the common schools of Clay County, attended the White Springs academy, where he took the teacher's course, and later finished schooling at the Jasper Normal College, where he devoted his attention to the scientific course.
During his college career, Mr. Griffis taught school in vacations in Baker, Clay, and Bradford counties, and he continued with much success in this profession until he was called to public office. On November 6, 1900, he was elected clerk of the circuit court of Clay County, and he entered upon the discharge of the functions of that office in January 1901. Mr. Griffis has done good work in the schools of North Florida and is highly deserving of the honor bestowed upon him. In fraternal affairs, he is an active member of the Masonic order. [Memoirs of Florida]
Gustafson, Papa, and Mama
Founders of Gustafson Dairy in Green Cove Springs after 1900.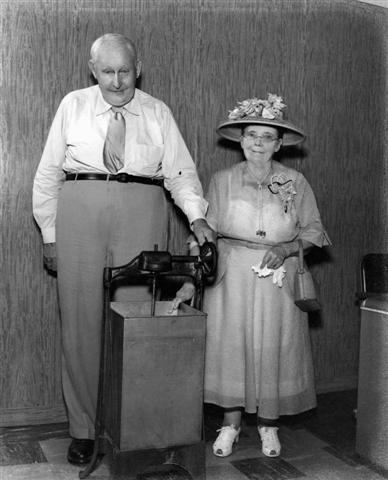 H
Haas, Charles E. of Green Cove Springs, was born in Clay County, Fla., on September 27, 1860, the fourth son of John and Rebecca (Varns) Haas. Mr. Haas reared amid the disturbed condition of affairs subsequent to the civil war and without much educational advantages. Still, by force of energy and application, he fitted himself to fill important positions in the commercial world. He started out as a cigar maker in Jacksonville and was engaged in that business for three years, having risen to be assistant foreman of the factory. Returning to Green Cove Springs, he was engaged in photography with his brother Isaac Haas for two years. For the next seventeen years, he was a trusted and valued employee of J. C. Crocker in the general mercantile business, after which he went to Jacksonville, embarked on the mercantile business, and conducted it with success and profit for four years.
Then, after selling out, he returned to Green Cove Springs, formed a partnership with E. Y. Harvey under the style of Green Cove Lumber Co., and engaged in the sawmill and logging industry. This firm has been exceedingly prosperous from the start, receiving more orders than they can fill and shipping large quantities of lumber to Jacksonville and Mayport. On October 21, 1891, Mr. Haas was married to Emma, daughter of Henry and Hetty (Fell) Boyer of Kentucky, and they have two children, Felix Herman, and Bernice. As a business man, Mr. Haas was wrought with success from a modest beginning and is deserving of all his good fortune. [Memoirs of Florida]
Hancock, Henry W., a prominent citizen of Green Cove Springs, was born in Jefferson County, N. Y., October 20, 1843, son of Isaac B. and Salle (Robbins) Hancock. He received a common school education in Columbia County, Wis., studied music at Alger, Iowa, and in 1875, made his first business venture, opening a store to sell musical instruments. Three years later, he disposed of his stock, moved to Sheldon, Ill., and embarked on the dry goods trade. He began living in Florida in 1882, settling in Clay County and purchasing a farm on the St. Johns River, where he devoted his time to growing fruit.
In a few years, he had one of that county's finest peach and pear orchards and found a ready and profitable market for his products. In 1896 he opened a hotel at Green Cove Springs for the accommodation of his Northern friends, and he has been most successful in managing this business. Always enterprising, Mr. Hancock is interested in all movements that promise the betterment of his locality. He has served his fellow citizens as chairman of the board of public instruction of Clay County for some years. He is the master of the Masonic lodge at Green Cove Springs, is deputy grand master for the Eight district, and is an influential Oddfellow. Mr. Hancock was married on January 1, 1882, to Margaret E., daughter of William and Lucy (Wilkinson) Wilson of Sheldon, Ill., and they have one daughter, Ruth. [Memoirs of Florida]
Hanford, Sidney F., County Clerk of Clay County, is another young man who has, at all times, been found worthy of the highest honors. Being a prominent Democrat, his party has, at various times, elected him to fill positions of trust. he has served as County Clerk since 1888, for three terms held the Marshall's office, and served as Town Collector for two terms. As a Knight of Pythias and Mason, he stands high, while in social and business circles not stand higher. [Live Towns and Live Men 1891]
Hendricks, Thomas J. Clay County's delegate to the Secession Convention. One of the only counties to vote to stay with the Union. Described in Parade of Memories, pg 71.
Hendricks is No. 32 in the middle of the photo (with glasses) to the left of his friend Mathew Solano.
Hilliard, Robert L., of Orange Park, a prominent lumberman, was born in Ware County, Ga., on August 17, 1864. His father, Captain Cuyler W. Hilliard, served through the civil war as a captain in a gallant Georgia regiment, rendering honorable service for the South, afterward represented Ware County in the Georgia legislature and for many years was successfully engaged in the lumber business in Georgia, until his removal in 1890 to Dinsmore, Duval county, Fla., where he is engaged extensively in lumbering under the firm name C. W. Hilliard & Sons. Robert L. Hilliard is an important member of that firm and was sent to Orange Park to take control of a small lumber business that the company purchased in 1897.
He has continued in charge of the property, developing and increasing it until it has reached handsome proportions. This mill ships large quantities of lumber by boat to New York and other important world markets. On September 22, 1887, Mr. Hilliard was married to Gracie, daughter of James A. and Christine (Daniels) Tripp of New York state, and they have two sons, Robert Lee. Frank H. Mr. Hilliard is a member of the famous lumberman's order of Hoo Hoos and is accorded an honorable place among his fellow businessmen. [Memoirs of Florida]
Hoffman, Lee Among the younger men of the town [Middleburg] will be found Lee Hoffman, bookkeeper for Dillaberry & Co. Mr. Hoffman is about thirty years of age and a South Carolinian by birth, as well as one of the most popular young men in the community. Those who know Mr. Hoffman best speak of him as courteous and honorable and predict a future of usefulness. In company with Mr. De Montmullin, he has recently built an opera house that is a credit to a town of Middleburg's size. [Live Towns and Live Men 1891]
Holt, E. N. In every town, there are to be found men who build up and improve the town. E. N. Holt of Orange Park has been the moving spirit in the development of the place. Mr. Holt is the Town Council president and the chairman of the Board of County Commissioners of Clay County. He has also served as Mayor, town clerk, postmaster, and other important positions. With small means at the start, he has, by strict attention to business and determination to win, gained step by step until he now owns an immense hotel beautifully furnished, a general store and orange groves of many acres in the village, and wild lands throughout the county.
He also has a large interest in a steamer plying between Jacksonville and Green Cove Springs [this is probably the May Garner]; he is the sole owner of an artesian well over 400 feet deep. This well he will pipe for a supply of water for the village. The village council has granted him the exclusive franchise to supply the village with water for twenty years. Another enterprise he has taken hold of is a grand shell road from Jacksonville to the park, thirteen miles; also a brick yard — a fine supply of good clay found close to the town limits. [Live Towns and Live Men 1891]
Houghton, E. W. is another of Middleburg's live men. Mr, Houghton is the postmaster and keeps, in connection with the post office, a large stock of dry goods, groceries, etc., with which he supplies a large trade. A native of old Massachusetts, a resident of Colorado for three years, where he was president of Bay State Mining Company and twenty-one years of life of more than ordinary interest spent in Florida, has given to Mr. Houghton an acquaintance with men and the country at large, which makes him an interesting and highly educated citizen. [Live Towns and Live Men 1891]
J
Jennings, May Mann
Jennings, William Sherman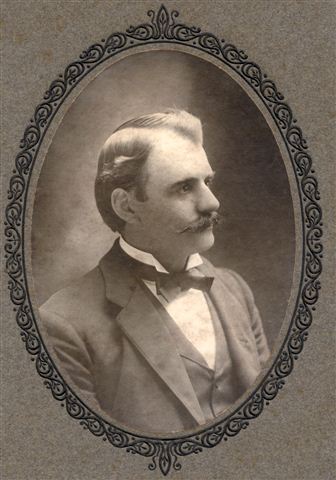 Jennings built a career of exceptional public service to the citizens of Florida. Afterward, she retired to Jacksonville, where he maintained a farm and forest lands in the Middleburg area. He served as a judge in Hernando County (1888), House of Representatives (1893), Speaker (1895), and Governor (1900). His wife, May Mann Jennings, was a powerhouse in her own right. Her biography is available in the Archives. His first cousin, William Jennings Bryan, famously ran for president several times.
K
Kirkpatrick–Everybody who has ever had the pleasure of visiting Green Cove Springs in late years knows if he is one of the boys, where Kirk's place is, and everyone knows that whatever Mr. Kirkpatrick sells is the best and that you will get just what you want and how, when and where you want it. Mr. Kirkpatrick is a member of the Board of County Commissioners, a prominent secret society man, and a good fellow to have in any position. [Live Towns and Live Men 1891]
L
Law, Charles Fabian, of Green Cove Springs, senator for the Twenty-ninth senatorial district of Florida (Clay and Baker counties), has been a resident of Green Cove Springs for nearly twenty years. During that tie, he filled many offices of trust. Be has been town assessor, town attorney, and mayor for three consecutive terms — the first third-term mayor in the municipality's history. He was the supervisor of registration of Clay County for ten years and served as clerk of the circuit court for the unexpired term of Syndey F. Hanford, who resigned. Senator Law is a native of George, born in Liberty County on August 25, 1868, on the plantation of his grandfather, Judge William Law, a prominent lawyer and judge of the Georgia circuit, now known as Chatham circuit, many years ago.
William Fabian Law, son of the latter and father of Senator Law, graduated from Yale in the class of 1837 and received a diploma at the Dane law school, Cambridge, Mass., in 1840, after which he commenced the practice of his profession in the city of Savannah. Senator Law's early schooling was at private and public schools in Savannah. Shortly after the war between the states, he was sent to Toronto, Canada, where he attended and graduated from Upper Canada College. He first read law at Utica, N. Y., in the office of his uncle, Alexander T. Goodwin, State senator from Oneida County, and, after he arrived in Florida, continued his studies with Hon. Robert W. Davis. He was admitted to the bar in Florida at the spring term of 1884 of the circuit court in Clay County and has practiced his profession there ever since, excepting the period that he served as clerk of the circuit court.
Senator Law is a lawyer of ability and has met with success and honorable recognition in his profession. His recent record in the State senate has received the approbation of his constituents. He introduced a number of excellent bills, which are now among the status of the State. Due to his efforts, he adopted the amendment to the pension bill, which he introduced, increasing the amount of pension for ex-Confederate soldiers. He introduced Senate joint resolution No. 4 for the relief of the Supreme Court. In a contest conducted by a Tallahassee newspaper to decide who was the "most popular senator of the session of 1901," the balloting resulted in his favor, and he received a handsome gold-headed cane. On November 2, 1902, Senator Law married Miss Adah Elam of Atlanta, Ga. [Memoirs of Florida]
Lee, Ensign Benjamin A WW II land field on Fleming Island was named for Lee. See the paper, "Ensign Benjamin Lee, II & Lee Field GCS," by Faye Kennedy Irwin.
Leuders, Henry, as will be noticed by his advertisement elsewhere, deals in everything usually to be found in a variety store. Mr. Leuders is a prince of good fellows and has one of the most attractive homes in the county. [Live Towns and Live Men 1891]
Low, Capt. J. E. All Florida towns have their live real estate men. They are among the most useful of businessmen and do more than almost any other class in building up their respective towns. J. E. Low is the leading real estate man of Green Cove Springs, and it is safe to say that no man in the town labors more earnestly to make the town the best in the South. Captain Low always bargains in real estate, and those patronizing him will make no mistake. [Live Towns and Live Men 1891]
M
Merrill, Charles E. Son of Dr. Charles Merrill and born in Green Cove Springs. At 30, he and his friend Edmund Lynch formed the investment house of Merril Lynch & Co. He is known for adroitly orchestrating the merger of two grocery chains to form Safeway in 1926 and shrewdly avoiding the worst effects of the Great Depression. His boyhood home still stands.
Merrill, Dr. Charles M. The oldest established business in Green Cove Springs is that of Dr. C. M. Merrill. The Doctor enjoys life, and why not? With a large and carefully selected stock of everything to be found in a first-class drug store and a constantly increasing and popular practice, is it any wonder that, wherever you find Dr. Merrill, you find a man full of life, prolific in ideas and as genial and jolly an M. D. as one can find in the State. [Live Towns and Live Men 1891]
Peeler, J. A., In speaking of the officials of Clay County, J. A. Peeler, the efficient sheriff, should not be forgotten. Sheriff Peeler is well and favorably known all over Clay County. That he is worthy of the respect and confidence is shown by the exalted official position he now holds, a position which he fills to the entire satisfaction of all. [Live Towns and Live Men 1891]
Peeler, William F., of Green Cove Springs, sheriff of Clay County, was born in Jefferson County, Fla., on April 25, 1861, son of William and Amanda (Carlisle) Peeler. He was raised and educated in Clay County, where he engaged in farming and as a market proprietor in Green Cove Springs until January 8, 1900, when he was appointed sheriff by the governor to fill the unexpired term of James Weeks. In November 1900, at the general election, he was elected by popular vote to succeed himself in that position.
Sheriff Peeler was married on November 15, 1888, to Lula H., daughter of Daniel and Sue C. Souter, of Clay County. She died on February 22, 1889, and he was again married in July 1895 to Mrs. Mary (Richardson) Harris, daughter of William and Mary (Carter) Richardson. Four children have been born to them, of whom two are living, Lula and Martin Luther. Sheriff Peeler is a young man of sterling worth and marked ability and is very popular in his county. As sheriff, he has so conducted himself in the performance of duty that the people have learned to respect him for the fearless discharge of his obligations to the public. [Memoirs of Florida]
Prevatt, E. D., Tax Collector of Clay County, is a native of Florida; his home is at McRae. Mr. Prevatt is a prominent Mason and is also connected with the Farmers' Alliance, where he participates actively. All who have the pleasure of his acquaintance, both in social and business life, speak of him as a prudent official and honorable citizen. [Live Towns and Live Men 1891]
R
Randall, W. D. We desire to call special attention to The Green Cove Springs, one of the live State papers recognizes all over the State as one of the best. W. D. Randall, the editor, and manager, has demonstrated his ability to give the public a newsy, progressive paper. We want to say; for the benefit of those who fail to support the home paper, we don't care what town you live in, where you were born, what your politics are, rich-poor, native or foreigner, white or black, if you are half a man and want to see your town prosper and your editor wear a coat, patronize your paper. Of course, this is a free country, but no man is supposed to act like a lunatic without some restrictions. [Live Towns and Live Men 1891]
Register, L. D. The family of L. D. Register is an old one in Clay County, and it is safe to say that no one in Middleburg is a stranger to him. In the vigor of manhood, of a good family, holding a fine position with the old reliable firm of A. S. Chalker, prominent as a Knight of Pythias and Good Templer, and with hosts of friends, L. D. Register should feel true that his lot is one of the most pleasant to be found in life. [Live Towns and Live Men 1891]
Reinhold, Paul
"The Cathedral Builder, Life of Paul Reinhold" is available at the Archives.
Rivers, D. T. was born in South Carolina in 1853 and has been in Florida for the past fifteen years, the last three of them in this place [Green Cove Springs]. Some five months ago, he opened a gents' furnishing store on Magnolia Avenue and did good business. His store is neat and attractive, and he has a good trade. Mr. Rivers is also the agent for Pine Grove Mill's hay, grain, and fertilizers. [Live Towns and Live Men 1891]
Rosenbush, R. The "Parlor City" [Green Cove Springs] Bakery is conducted by R. Rosenbush. Here you can find the finest pies, sweetest bread, and cakes. [Live Towns and Live Men 1891]
S
Sheats, William N. State Supt. Of Schools during the Orange Park Normal School crisis.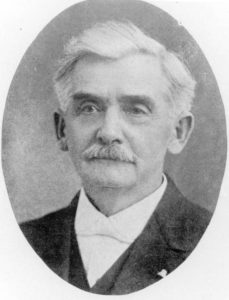 W
Wager, Andrew F., of Green Cove Springs, a prosperous fruit grower, was born in Ontario, Canada, on May 26, 1876, son of Thomas A. and Manita (Eddy) Wager. His father moved to Clay County, Fla., in 1882, followed his trade as a carpenter for some years, and embarked in the fruit growing industry. Andrew F. received his early education in the schools of Clay County and took courses in the Georgia and Alabama Business College at Macon, Ga. after completing this, he taught school in Clay County very successfully between 1896 and 1897. On July 25, 1898, imbued with a desire to serve the county of his adoption, he volunteered in the United States service to participate in the Spanish-American war, enlisting with the Florida Naval Reserves as a private under the command of Lieutenant Bland.
Later he was transferred to Commander Bissinger's command and ordered to the navy yard in Pensacola, where he served the full term of his enlistment, two years. Returning to Green Cove Springs, Mr. Wager has since followed the carpenter's trade and has successfully engaged in fruit and truck farming culture. On September 27, 1899, he married Katie F., daughter of F. B. and Janette McLain of Canada. He is one of the worthy young men of that section and deserving of success. [Memoirs of Florida]
Weeks, James, of Green Cove Springs, was born in Clay County, Fla., on December 4, 1850, son of John A. and Eleonora (Wilson) Weeks. He received his early education in the schools of Clay County and later in those of Duval County, whither he accompanied his father, who removed there to engage in stock raising and farming. He was with his father until 1881, when he removed to Palatka and for a time, was in business as a general merchant.
He was afterward quite active in the timber business until 1895, when he was elected sheriff of Clay County, a position he ably filled for the next five years. Since then, he has been notable successful in the cattle business. In January 1900, he partnered with Charles E. Haas in the sawmill and logging industry under Haas & Weeks. Mr. Weeks is married and has four children, E. J., Lillie, Mabel, and Mamie. [Memoirs of Florida]
White, Tilman is perhaps as well and favorably known as any gentleman in town. He holds the responsible position of General Manager of a large lumber manufacturing company of Fairhead, Strawn & Co., a position which has long experience in that line enables him to fill satisfactory to all. His beautiful cottage is in the heart of the town, where he is always pleased to meet his numerous friends.
Wilson, E. M. One of the best saloons in the State is that of E. M. Wilson. Mr. Wilson keeps the best of wines, liquors, and the finest cigars, and there is no doubt that he treats you well every time you call. Some of his brands of liquors have become known nationwide for excellent qualities. [Live Towns and Live Men 1891]
Z
Zittel, George is among the old citizens of the town [Green Cove Springs] as well as one of the most worthy. Mr. Zittel has just erected a handsome store filled with everything good to eat, drink and wear. [Live Towns and Live Men 1891]